White Party Decorating Kit, 9pc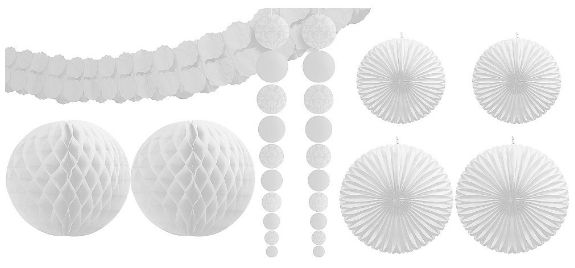 White Party Decorating Kit SKU 249263
1 Garland, 12'
2 Honeycomb balls, 9 1/2"
2 Circle hanging decorations, 3'
2 Large tissue fans, 12"
2 Small tissue fans, 8"
Dress up your party in white! This lovely assortment of White Party Decorations features a garland, honeycomb balls, tissue fans, and light grey damask print-accented hanging decorations of attached cardstock circles ready to fill your party room with color. Use tape or Sticky Tack (sold separately) to suspend these lightweight paper decorations from walls, windows, and ceilings. Everything but the garland comes with pre-attached strings for easy suspension. Kit includes 9 White Party Decorations in all.