©DISNEY CARS 3 Postcard Invitations, 8ct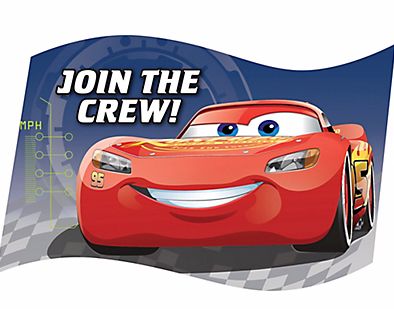 ©DISNEY CARS 3 Postcard Invitations - Cars 3 Invitations 8ct SKU 491763

8 Cars 3 Postcard Invitations, 5 3/4" wide x 4" tall

8 Envelopes

8 Sticker seals, 1 1/4" diameter


8 Save-the-date stickers, 1 1/4" x 1 1/4"
There's a party at the Motor Speedway of the South! Spread the word to all your friends and family with these Cars 3 Invitations! These postcard-style invitations are shaped like a waving flag and feature Lightning McQueen next to a "Join The Crew!" headline. Stick the save-the-date stickers inside the included envelopes then seal them with stickers steals featuring Lightning McQueen and Jackson Storm. Guests will be excited for your little one's Cars birthday party when they receive these Cars invitations!