Dream, Believe, Sparkle Triple Sign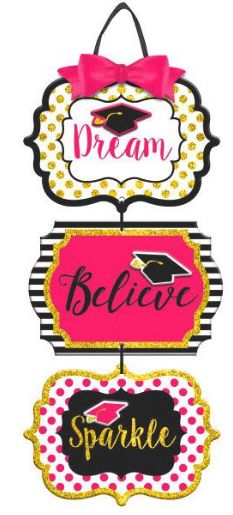 Dream, Believe, Sparkle Triple Sign SKU 241708:
Size 18" x 8"
MDF w/Glitter, Bow & Ribbon Hanger
The grad's smile will sparkle when they receive a Glitter Dream Believe Sparkle Graduation Stacked Sign! This hanging decoration features three fiberboard signs stacked on top of each other that read "Dream, Believe, Sparkle," and are connected by ribbon with a big pink ribbon bow on top. This stacked sign includes varying designs of gold glitter borders, gold dots, pink dots, black and white stripes, and grad caps. Hang this graduation sign up during their celebratory graduation party or send it as a gift with the new grad as they go off to college.