©Disney Princess Dream Big Crayons, 12pc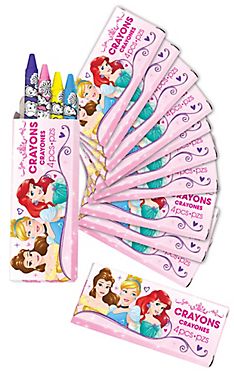 ©Disney Princess Dream Big Crayons, 12pc
©Disney Princess Dream Big Crayons SKU 397322:
12 Princess Crayon Boxes
4 Crayons per box
4 Colors: purple, pink, yellow, and blue
Boxes, 1 1/4" wide x 2 3/4" tall
Crayons, 2 3/4"
Wax crayons & non-toxic
They can draw whatever their hearts desire with Disney Princess Crayon Boxes! These four-piece crayon packs feature colorful images of princesses on the front and contain a purple, pink, yellow, and blue crayon inside. Break out Disney Princess Crayons Boxes for fun coloring activities and include them in favor bags for your party guests to take home!