Multicolor Grad Candy Buffet Decorating Kit, 23pc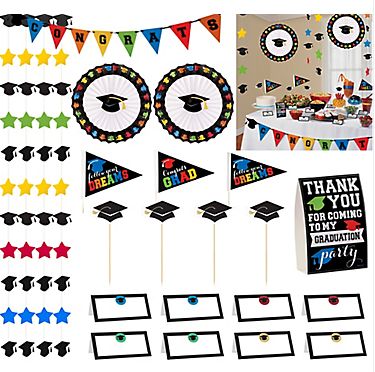 Multicolor Graduation Buffet Decorating Kit SKU 241391:
Pennant banner, 9' wide x 7" tall
Tent card, 4" wide x 6" tall
2 Paper fan decorations, 16" diameter
3 Pennant flag picks, 8 3/4" wide x 12 1/2" tall
4 Graduation cap picks, 3 1/2" wide 7 3/4" tall
4 String decorations, 6' long
8 Tent cards, 4" wide x 2" tall

Covering your buffet table in color is easy with a Multicolor Graduation Buffet Decorating Kit. First, assemble the paper fan decorations and hang them and the string decorations above the buffet. Next, use the tent cards to label the items on your buffet and add the pennant flag picks and graduation cap picks to the display. Finally, hang the pennant banner along the front of the graduation candy buffet table, and you're ready to celebrate.