Hello Kitty Rainbow® Table Decorating Kit. 23pc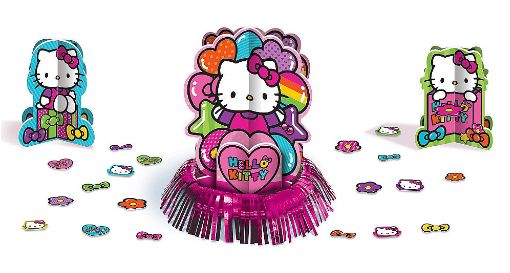 Hello Kitty Rainbow® Table Decorating Kit - Rainbow Hello Kitty Table Decorating Kit 23pc SKU 281417
Large centerpiece, 12 5/8"
2 Small centerpieces, 7"
20 Table scatter pieces, 2"
Make your room pop with our Rainbow Hello Kitty Table Decorating Kit! This table decorating kit features a pop-out centerpiece of Kitty White with colorful hearts, stars and flowers. In two smaller centerpieces, Kitty White rests on a wrapped gift and pops out of a pink box. Scatter heart, bow, flower and other cardstock confetti on your surfaces, and place the large and small centerpieces on your table or throughout the room for a delightfully bright celebration. So cute!